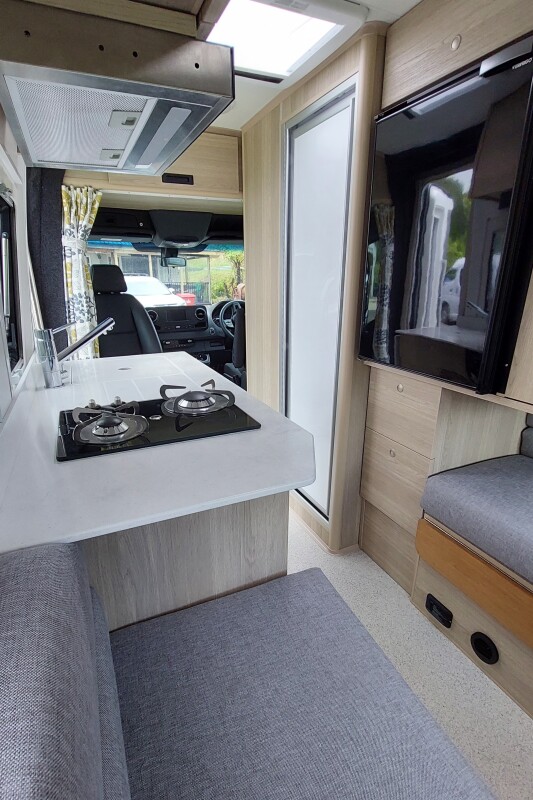 Mercedes 5.9m- Compact, Yet boasting great features, you would only except to find in larger motorhomes.
Specifications:
Mercedes Sprinter 5.9m MWB.
VEHICLE: Model: Mercedes Sprinter MWB RWD
Engine Specification: 2.14 litre 160HP turbo diesel Manual or Automatic 7 speed Euro 6,
Power Equipment: Power steering, Adaptive Electronic stability program, cruise control, Reversing camera.
5 Year Mercedes Warranty (200,000kms) 2 Year Fit Out Warranty
Reversing Camera
Measurements: Length 6 meters Width: 2 meters (Plus side mirrors) Height: 2.85 meters (including a standard size satellite dish)
Interior headroom: 1.90. meters
Motorhome Door (No Slider)
DRIVING: Seating configuration: Seatbelts for two in the driving cab, Passenger swiveling seat only. (Optional extra: seatbelts in rear living area for passengers)
Radio/Stereo: Radio/CD player, speakers in driving cab 12V Socket: Cigarette lighter adapter which is suitable to charge up cell phones and camera batteries.
Fuel: Diesel, 71 litre tank Fuel consumption: approximately 7L per 100KM
Air conditioning: Standard Mercedes air conditioning when driving.
LIVING:
Sleeping configuration: One double bed 1900 x 1700 or two singles 1900 x 750, & 1670 x 750
Fridge Freezer: 130L 12v /230v Fridge System
Gas cooker: Gas hob, oven with grill.
Gas bottle: Two x 4 kg gas bottles
Microwave: Optional - Operates on 240volt only
Range hood
19" TV, DVD player with free view Satellite dish – Automatic satellite dish
Water heater: Water heater works on gas or 240V power and is operated by internal switches.
Fresh water Tank: Capacity- 100litres, Grey Water tank: Capacity - 100litres, holding tank for grey wastewater generated from the shower and kitchen sink.
Bathroom: Hot and cold pressurized water shower cubicle with full size hand basin and mirrored storage cabinet, Roof vent & light, towel rail, heating duct.
Toilet: Located in cubicle with shower. Flushed toilet waste goes into cassette holding tank which is accessed from exterior compartment door.
240v Power supply: 240Mains RCD protected with power lead.
Batteries: 115 AH Lithium Ion. The Batteries are recharged by engine alternator when driving, from the mains power supply, and solar power.
Solar Panel: 1 x 180W solar panel
Lighting: LED Interior lights operate both off 12V battery and 240V mains supply
Heating: Rear cabin air heating operates on Diesel and is thermostatically controlled to ensure a comfortable temperature.
Storage: Generous overhead cupboard storage, space under seats at rear of vehicle and along wall, hanging wardrobe.
Kitchen features Hi-macs Stylish Bench tops, fold up bench extension and spacious drawers.
Electric Step: Easy switch inside motorhome single door, auto retracts when vehicle is started.
Roof vents: One in the kitchen area and one over the bed / dining area at the rear plus one in shower / toilet area.
Windows: Double glazed in living area with blinds and insect screens
Flooring: Easy care, non-slip vinyl
Interior: Squab, Curtain and Benchtop Color options to personalize your motorhome to suit you.
Internal access: Internal access between driver's cab and living area.
Exterior access: Side door with electric step plus, chrome grab handle. Rear Double door access to storage under lounge seating.
Includes Side graphics, Full Self-Containment Certification, Gas and Electrical Certification all to NZ Standards.
Optional Extras / Upgrades –
3.5m Shade Maker Awning, Bike rack, Sky Tv Card Slot, Tow Bar, Grey Water Waste Pump, Black Tank etc.